Champion Chester Weber advocates STORM for driving horses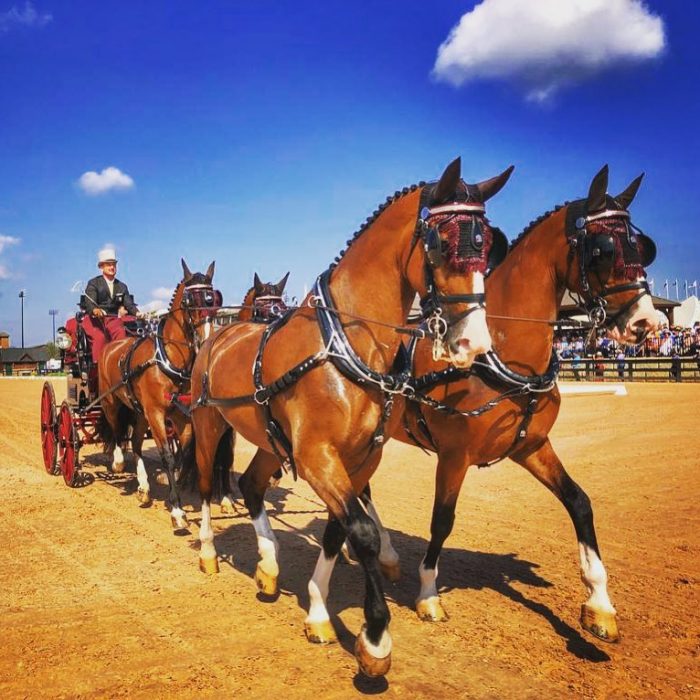 Racing Blue are excited to announce that Chester Weber has joined us in becoming an advocate of STORM for driving horses. Chester is the most celebrated combined driving athlete in the United States.  Chester received a recommendation for STORM for his driving horses just before the World Equestrian Games in Tryon 2018 from a long term friend and colleague from the veterinary and nutrition sector.
Having since met Chester, it is easy to see that he has an enquiring mind and a rigorous attention to detail that could immediately appreciate the marginal gain that STORM offered to his team's overall performance.  Last September at the World Equestrian Games, Chester won a combined driving individual silver medal, and a team gold, the first ever for the U.S.
Chester Webber
The Ocala, Florida native began driving competitively at a young age. When he was 18 years old, Chester was the youngest driver to be named to the United States Equestrian Team for the World Pairs Driving Championships.  In 2008, Chester made history by becoming the first American to win an Individual Silver Medal in the Four-in-Hand FEI World Driving Championships.
He won England's Royal Windsor Horse show two consecutive years, and received a personal congratulations from Her Majesty, Queen Elizabeth II.
Chester has three other World Equestrian Games silver medals, and 16 U.S. Equestrian Federation Four-in-Hand National Champion titles.
How does STORM work?
STORM provides key nutritional building blocks and co-factors supporting formation of muscle Carnosine , an important biological buffer that helps horses manage muscle acidosis e.g. from lactic acid accumulation, during intense exercise.
STORM is ideal for driving horses allowing them to maintain their power and speed for longer an essential ingredient for effective training and competition success.
Follow onto our STORM Equus product page for further information.
Or LIKE our Racing Blue Facebook page.
Or follow us on Twitter @racingblueSTORM.