Dog Muscle Supplements
® Canis delays muscle fatigue and improves recovery by optimising local muscle fuel stores, improving management of lactic acid and supporting muscle recovery and repair following strenuous exercise.



STORM® Canis is a complementary feed supplement for all working dogs including those that race such as Greyhounds, Lurchers, Salukis and for other canine sports and disciplines such as flyball, dog agility or sled dog racing. It should be added to the normal food diet, thus providing part of a normal healthy balanced ration.

STORM® Canis is scientifically proven to delay muscle fatigue and the 'burn' of muscle acidosis in muscles, which means that your dog can perform at maximum speed or power for longer. Moreover, it supports muscle repair and speeds recovery.

STORM® Canis is used at the highest level in greyhound racing, where the 2015 UK Champion Trainer, Mark Wallis, attributes his stunning victory to this outstanding product.

STORM® Canis is suitable for all working dogs which require rapid acceleration or power and can support endurance in dogs competing over longer distances.
Ingredients
The combination of active ingredients in STORM® Canis is unique worldwide. This revolutionary product can transform your dog in any discipline, both in training or competition.
STORM® Canis combines ProCarnosine® with a specialised carbohydrate and other functional amino acids and amino acid derivatives. STORM® Canis comprehensively supports muscle function to optimise work and performance.
STORM® Canis conforms to the rules of the Greyhound Board of Great Britain (GBGB) and other competition rules and each batch is rigorously tested for Naturally Occurring Prohibited Substances prior to release for sale.
Feeding Guide
STORM Canis Feeding Guide
| Size of Dog | Feeding (g) am | Feeding (g) pm |
| --- | --- | --- |
| Small Dog (up to 15kg) | 2.5g (0.5 scoop) | 2.5g (0.5 scoop) |
| Medium Dog (15 - 25kg) | 5g (1 scoop) | 5g (1 scoop) |
| Large Dog (above 25kg) | 7.5g (1.5 scoop) | 7.5g (1.5 scoop) |
Feed STORM® Canis daily with the recommended amount split between two meals.

A scoop that provides 5g is provided in each tub of STORM® Canis

STORM® Canis is available in a 1kg tub that will last a medium size dog 100 days. A single medium size dog will require about 300g of STORM® Canis per month.

For a sustained effect STORM® Canis should be fed for 1 month prior to racing or competition and then fed throughout the working or competition season. STORM® Canis can be discontinued out of season or during periods of rest.




If you require any further help or care then please feel free to contact us.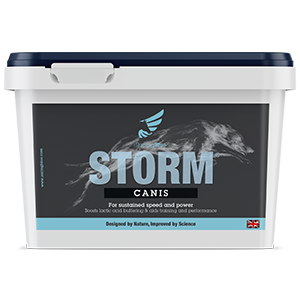 buy STORM® canis now