Toby Pigott, International Event Rider is latest STORM Advocate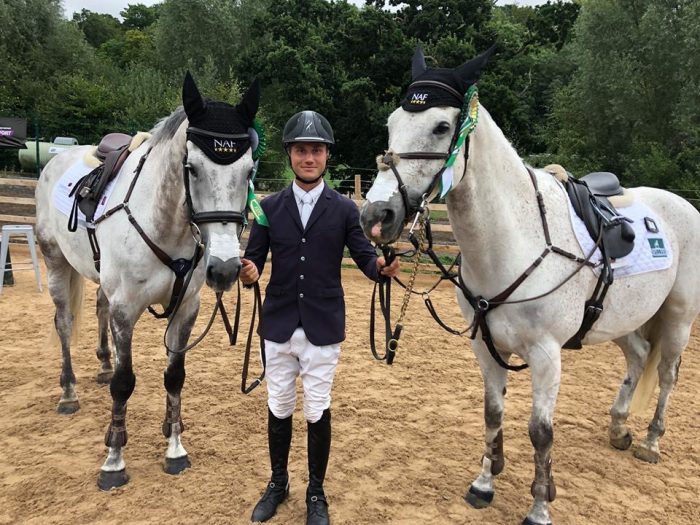 International 4* Event Rider Toby Pigott has made a fantastic start to the 2019 season with his string of horses. Toby's busy event yard is based at the beautiful Rabson Manor near Marlborough, Wiltshire and with a dedicated team by his side, he intends to build upon his success in 2018 and is aiming high for 2019.
All of his horses are stepping up through the eventing ranks with Diamond Cove now competing at advanced 4* and placing in the top 3. Golden Forever competing at 4* and aimed at Tattersalls and Blenheim International 4*. Whilst Freestyle R moved up to 3* last year and was placed in the top 10 at every event, this year he's intended to compete at Blenheim 8/9 year old 4*. Last but not least, Lance A Little is now an 8-year-old, who at only 7 years old stepped up to 3* and placed in the top 10 in all his international starts.
After feeding STORM Equus independently for two competitive seasons, Toby approached Racing Blue and is now a confirmed STORM advocate and has kindly shared his views on how this unique supplement supports the training and performance of his horses and improves his competition placings…
"Feeding storm is an integral part of my horses feeding program. We really believe in the science behind it and how STORM can help delay muscle fatigue. In our opinion, this really can make a difference."
STORM Equus is a scientifically proven leading sports horse supplement that supports training, performance and recovery. It works by improving the body's natural ability to manage the lactic acid build up in muscles during intense exercise and therefore reduces muscle acidosis, maintains calcium sensitivity and helps tackle oxidative stress at peak performance. In event horses, this means it reduces muscle fatigue and delays tiredness at the crucial point of competition, meaning horses are able to maintain power and speed for longer, helping to reduce the risk of a mistake through fatigue.
We are delighted to support Toby, his horses and his hardworking team in their training, competitions and in pursuit of their ultimate goal…to compete at Badminton Horse Trials. We would like to congratulate the whole team on their achievements so far and wish them the very best of luck for 2019 and beyond to Badminton!
If you're looking for that crucial marginal gain this season now's the time to get STORM on board! You can buy it direct from us here.