Racing Blue and STORM® Proudly Support Cyclists in Epic Endurance Challenge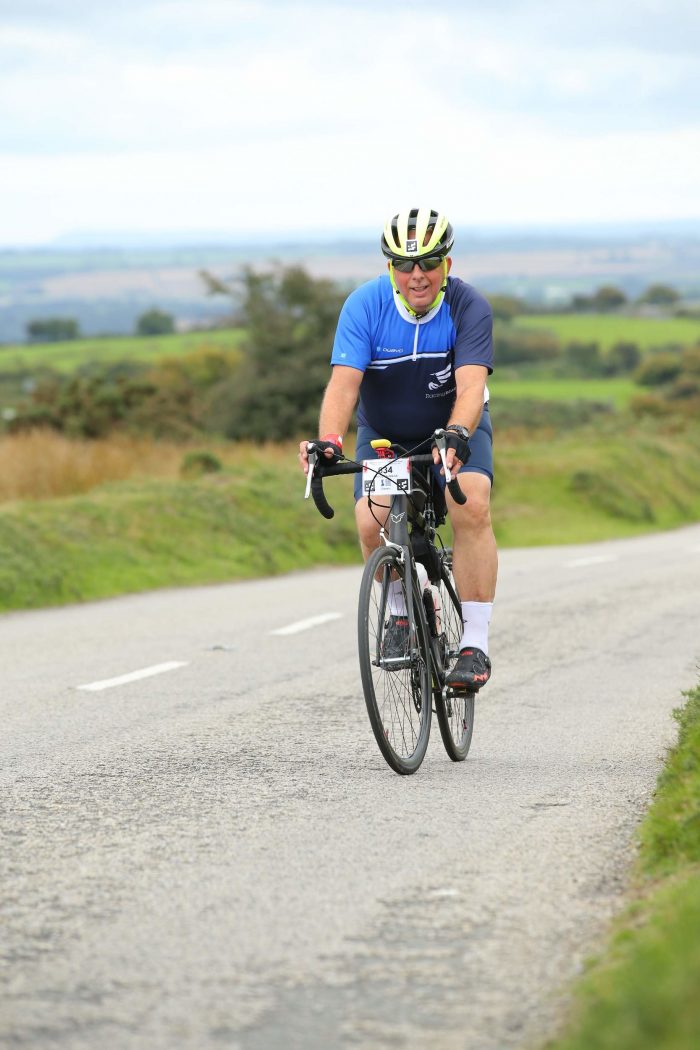 Racing Blue were proud supporters of cyclists Bruce Talmage and Ian Seager in the recent Deloitte Ride Across Britain that took place between 8th and 16th September 2018. The marathon ride covered approximately 980 miles in just nine days. Setting out from Land's End and finishing at John O'Groats, Bruce and Ian coursed through some incredibly challenging terrain, 23 counties and three countries alongside 850 other riders.
Although the ride itself was an intense nine days, the preparation began almost a year beforehand. Motivated by the desire to get fit, raise money for charity and to complete a personal challenge, Bruce agreed to join his friend Ian for the ride and the many months of training preceding the challenge. Both Bruce and Ian chose to raise funds in aid of Macmillan Cancer Support, as they'd both been touched by their incredible work through the experiences of people close to them.
Prior to the ride, Bruce and Ian described themselves as "sometimes cyclists" who enjoyed a fair amount of cycling and often managed to incorporate a pub visit along the way! Training started with rides of around 15 miles and built up to 60 miles, with one ride of 104 miles. During training Bruce rode a total of 18,003 miles over 72 rides, whilst navigating various factors out of his control, such as winter snow and ice, a prolonged summer heat-wave and three weeks off training after sustaining a large hematoma on his leg due to a 20mph fall from his bike.
Here's how this incredible challenge went for Bruce and Ian…
As they set off the overriding feature of day one was…hills! Day two was the first time of riding two consecutive 100 mile days and Bruce had a gear cable snap, losing him vital time. Day three felt like an easier day and afforded time to appreciate the beautiful roads along the Wye Valley. On day four, whilst Bruce gained extra speed from the motivation of his wife waiting at the end of the stage. Unfortunately, Ian fell from his bike and eventually had to pull out of the remainder of the ride due to injury. The physiological ups and downs were remarkable and on day five Bruce dug-deep to reach the end of the stage. On day six exhaustion kicked in and by day seven Bruce was hampered by an emerging leg injury and forced to catch the bus to the end of the stage. Choosing to battle on through the pain, Bruce started day 8 on powerful painkillers and overcame his injury to complete the day in good time. Day nine, the last day, was beautiful (as it would be!) and very windy, with the closing miles to John O'Groats aided by a welcome and strong tailwind which helped Bruce over the final hills!
The challenge continued throughout each evening, as overnight accommodation consisted of a tent at temporary base camps. Although the logistics and support of the event were incredible, there was little opportunity for relaxation and recovery during the evening, with a lot to get done such as, queuing for food and showers, attending briefings, continually unpacking and re-packing belongings and an increased need for self-care. All this coupled with the cold (including icicles in the tent one night!) meant Bruce was not particularly well rested for the extremely early start each morning. As Bruce himself reported – "at times it was mentally tough, with mood swings changing with every hill (up and down), spectacular view, queue, toilet-trip in the dark, or plateful of food."
We at Racing Blue are in awe of Bruce and Ian's incredible endurance achievement and are so pleased to have been able to help them through this challenge with the provision of our supplement STORM® Athlete. This helped Bruce and Ian to reduce fatigue during both training and the race itself. STORM® Athlete is specifically formulated to deliver a sustained release of beta-alanine – an amino acid critical to the efficient management of muscle acidosis that occurs during intense exercise. It helps to delay muscle fatigue by increasing the ability of muscle to buffer acidity (H+) such as from the accumulation of lactic acid in muscle. STORM® Athlete is suitable for any type of sport where quick acceleration or intense endurance is required and we're really pleased to hear that Bruce had no trouble with lactic acid at any point during training or his epic endurance ride.
Bruce confided that his greatest enjoyment throughout his challenge and the element of the experience that'll stay with him the longest was the wonderful way in which people united around a good cause – from friends, family, neighbours and the local village to businesses. Racing Blue are of course proud to have played a part in this achievement, through the provision of finance, clothing and our fatigue fighting supplement – STORM® Athlete. We're so pleased for Bruce and Ian, their grit during the ride and dedication to training cannot be overstated, from both a physical and mental perspective. It's a fantastic achievement, the likes of which Bruce advises, may not be repeated again – at least not the same challenge!
We'd like to extend a huge well done to Bruce and Ian from all the team here at Racing Blue.