TAILS WE WIN become STORM Advocates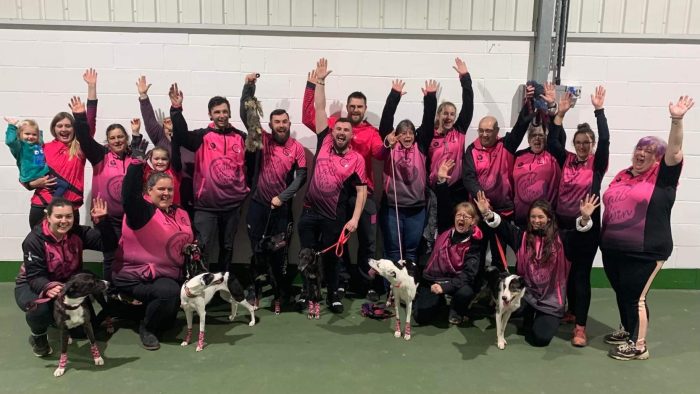 Flyball team TAILS WE WIN were ecstatically pleased to partner with Racing Blue and our canine sports supplement STORM Canis.  Prominent team member Ross Payne and his team of dogs have been a longstanding fan of STORM Canis for many years.
As a successful flyball team, TAILS WE WIN have spent the past few years establishing their dominance as the fastest flyball Team in all of Europe.
They are now expanding their horizons and aspirations, which is evident from their most recent flyball competition at Crufts, where they made the semi-finals, with the dogs showcasing exceptional technique.
Aspirations for TAILS WE WIN
TAILS WE WIN  have now set their sights firmly on the Flyball World Championships, which is held this year in Belgium.  They will then turn their attention to the UKFL Championships in August! All whilst trying to chase down that coveted flyball world record.
The team recognise that they have ambitious plans, which will put an incredible demand on the whole team, but especially all of their canine flyball athletes. As an aspiring Flyball team, TAILS WE WIN wanted to align themselves specifically with Racing Blue, as they truly believe in STORM Canis and its effects in delaying muscle fatigue and supporting muscle recovery.
STORM Canis an Ideal Sports Supplement for Flyball
STORM Canis is a proven blend of amino acids and their derivatives, which in harmony with a dogs metabolism delivers better management of muscle acidosis, which occurs during fast exercise, as a consequence of energy generation including from lactic acid build up.  This is a crucial benefit for a flyball dog, where prolonged and consistence speed and power through the serial races is vital to success, enabling the dogs to continue to perform at their highest level throughout the day.
"Those that know TAILS WE WIN, will know only too well that it can take us handlers a good few races to find our eye!
So when we finally get our act together, it's essential that the dogs performance is as consistently high in race 5, as it was by the close of race 1!
TAILS WE WIN will be documenting the journey that many of their dogs make with Storm Canis, covering varying breeds and lifestyles!
STORM Canis is available in two sizes 1kg (90 days supply for 1 dog) and 10kg (90 days supply for 10 dogs) via our website, or via our pages on Amazon or Ebay for worldwide delivery.