NZ Eventing High Performance Squad are STORM Advocates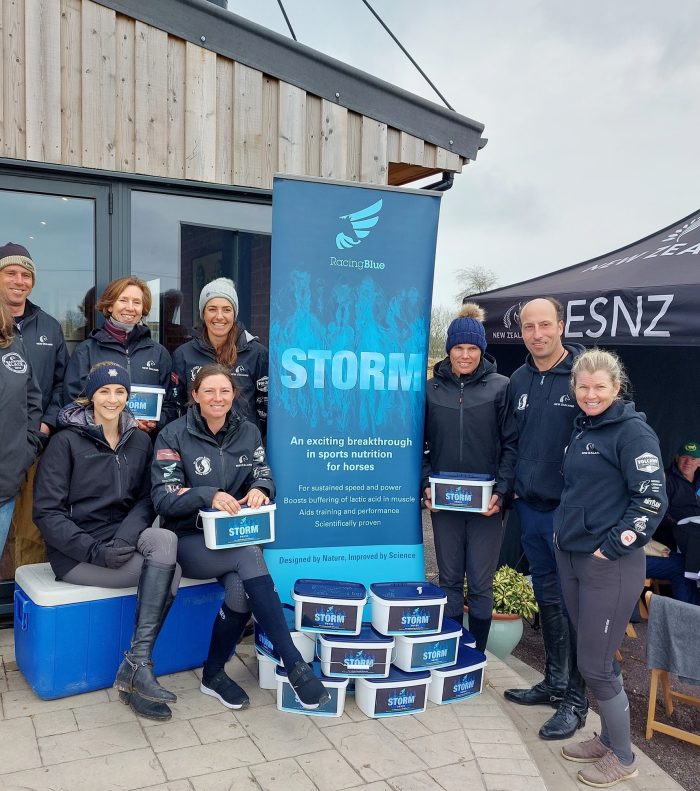 New Zealand are recognised all over the world as leaders in the field of eventing, with inspired riding and  many team and individual accolades to their name.  The exceptional riding and the talent of their horses is nurtured and supported by Equestrian Sport New Zealand, through their High Performance program.  This Squad of Kiwi riders and their horses have a comprehensive team of advisors, trainers, vets and nutritionists at their disposal to ensure that no stone remains unturned during training and competition, giving them every chance of success in Eventing, which is one of the most rigorous Equestrian Sports.
Racing Blue have worked in partnership with Equestrian Sport New Zealand's High Performance eventing squad for over 10  years, after they first approached us to make STORM® part of their team feeding strategy in 2011.  We are pleased and immensely proud that the New Zealand eventing team will once again have STORM on board this season under the guidance of team vet Christiana Ober and High Performance trainer Sam Griffiths.
STORM Equus is a revolutionary sports supplement for horses that supports horses by delaying muscle fatigue, an important factor for effective training and successful competition.  During fast exercise, such as the X-country phase of 3 day eventing or showjumping, muscle acidosis occurs as an essential consequence of energy generation including lactic acid build up.  STORM provides key nutritional building blocks to boost the level of a muscle component called carnosine, which buffers this muscle acidosis, allowing the muscle to maintain its power output for longer, so delaying muscle fatigue.
STORM Equus is available in two sizes 3kg (90 days supply for 1 horse) and 12kg (90 days supply for 10 horses) via our website, or via our pages on Amazon or Ebay for worldwide delivery.
STORM Equus is also available in Australia and New Zealand via Hygain retailers and distributors.