Mark Wallis champion greyhound trainer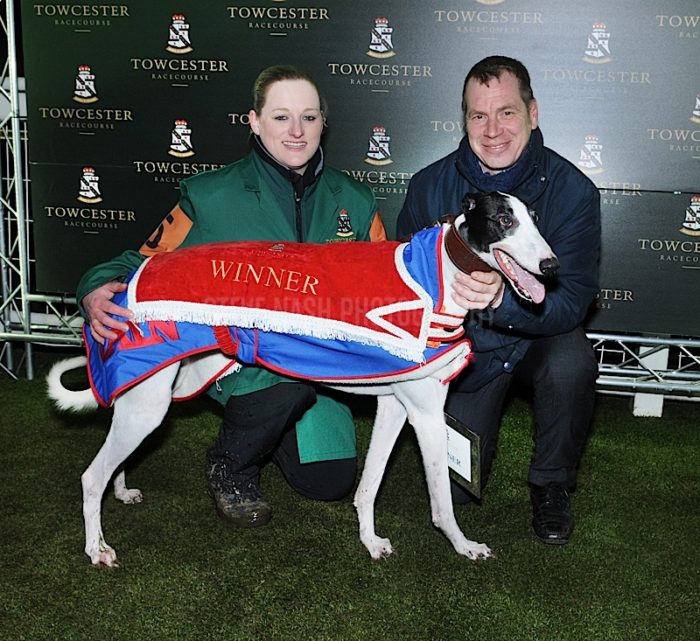 Imperial Kennels' Mark Wallis won the 2015 and 2014 GB greyhound trainer title in style, a year after STORM® Canis helped him secure his 2013 victory at the 11th hour.
He is well on the way to achieving legendary status in the British hall of fame of truly great greyhound trainers, as the dogs in his charge continue to literally go from strength to strength.
Mark won well in 2012, but concedes that without starting his canine stars on STORM® Canis, in late November, he could never have won the 2013 championship, coming from 4th place and 90 points behind with six weeks to go to winning the title with only a fortnight to spare.
Meanwhile, as 2014 started, Mark found himself in the enviable position of being the only trainer in Great Britain using this cutting edge canine supplement, and retained this exclusivity throughout the first quarter of the season, when it then became more widely available via Racing Blue's greyhound distributor Pre Market Pet Products (www.premarket.co.uk). By then he had seen such a level of success that the 2014 title was more or less a certainty, as he could no longer realistically be matched.
As with many aspects of Mark's Suffolk operation, 2014 has been a year of superlatives, and Mark believes that his continued use of STORM CANIS has helped bring his team to a whole new level. Summarising its vital contribution, Mark concluded, 'It was a privilege having sole use of the product STORM® Canis in late 2013 and the results we achieved were amazing and helped us win the Trainer Of The Year award from an impossible position. At the start of 2014 our success continued and we had no dips in form throughout the entire year, with all our kennel strength on STORM® Canis, enabling us to win a sixth Trainer Of The Year title by some considerable margin. I'm confident in saying STORM® Canis has been a major contributory factor to Imperial Kennel's success; as I have stated many times I was never a great believer in supplements but STORM® Canis is the best product on the market bar none and I think it is an essential product if trainers want to compete at the top level. Our improved results over the last 3 years prove that STORM® Canis  works and I'm only sorry it's available now to all our leading rivals on the track!'