STORM® Camelus
Please choose your preferred currency:
STORM Camelus is a unique NEW feed supplement for the racing camel to support speed, power and endurance by targeting muscle fatigue, muscle recovery and energy delivery.  STORM Camelus offers specific ingredient technology to ensure delivery through the camel's foregut delivering its ingredients to the small intestine for absorption. Dosage is 40g per day – 2 heaped scoops per day.
Overview
STORM® Science
Optimal muscle function is essential for athletic speed, power, and endurance in racing camels. Muscles must be able to produce energy adequately to drive muscle contraction. The efficiency of energy generating pathways and the ability to deliver fuel to muscle are key factors in performance to:
Produce sustained speed during training and racing
Produce bursts of power for both an early race advantage and finishing speed
Fighting muscle fatigue is also important to optimise camel performance. When the muscles become tired or fatigued, speed and power is reduced. Muscle fatigue can be a consequence of acidosis triggered by H+ build-up from lactic acid during exercise.
STORM® Camelus provides a unique combination of protected ingredients to support effective training, optimum performance and recovery.
STORM® Camelus tackles these three crucial issues:
Fuel delivery and energy generation in muscle
Muscle fatigue
Muscle recovery
STORM® Camelus provides key ingredients to boost fuel delivery, support energy generation in muscle and delay muscle fatigue by improving the defence against muscle acidosis.
Ingredients
Active Ingredients
STORM® Camelus combines ProCarnosine®, which is exclusive to Racing Blue, with a specialist amino acid derivative and B vitamins all tailored to the camel's digestive system through micro encapsulation to ensure delivery to the small intestine.
Strict quality control measures are set for sourcing ingredients and during manufacture. Each batch is tested for specified naturally occurring prohibited substances before release on sale.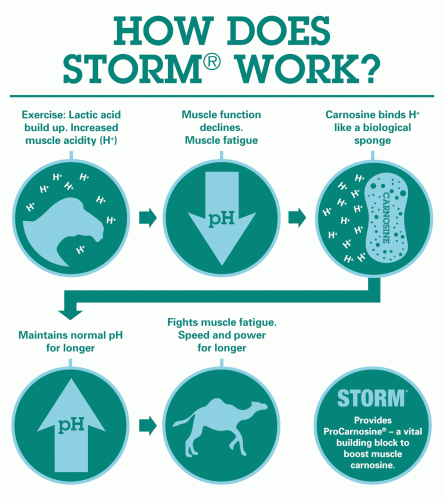 Scientifically Proven
World-renowned nutritionists have carefully formulated this product and the science is proven by research in dogs, horses and human athletes. The original research that underpins STORM® Camelus was carried out at The Animal Health Trust in Newmarket by the Racing Blue nutritional team.
Unique
By combining ProCarnosine® with specialist protected vitamins and amino acid derivatives, STORM® Camelus comprehensively supports muscle function during training, racing and recovery.
ProCarnosine® is only available from Racing Blue and is supported by a suite of global patents covering its use in athletic animals.
Instructions
Feed 1 scoop (20g) twice per day
Loading period 6-8 weeks
Feed throughout the camel racing season
STORM® Camelus is available in tub sizes of 1.2kg (2.2lb) and 12kg (26.4lb). For a single camel, 1.2kg (2.2lb) provides a 1-month supply.
Fast Facts
Fast Fact #7

Is STORM® unique?

STORM® supplements are unique formulations for horse, dog, bird, camel and humans formulated to fight muscle fatigue during intense exercise and support training and recovery. STORM® supplements are the only feed supplements to contain ProCarnosine® which is supported by global patents.

Fast Fact #1

Is patent protection a benefit?

Award of a patent to an ingredient or product requires robust evidence to support its reputed action or effect.  This is specific to a particular type or source of product or ingredient in question.  STORM® has been formulated to contain  ProCarnosine®, giving confidence that it has been thoroughly evaluated and well researched. It also means that STORM products cannot be copied in the market place.

Fast Fact #5

Are STORM® products palatable?

STORM® products are very palatable and easy to feed and can be simply sprinkled over the daily feed for STORM® Equus, Canis and Camelus and added to the water for STORM® Avis.  STORM® Athlete comes in an easily swallowed tablet form.

Fast Fact #12

Where in the world are STORM® products available?

STORM® products are available from Racing Blue's distributors around the world, or directly via our website. Please see our SHOP for more information. Please contact us if you have difficulty sourcing STORM®

Fast Fact #13

Have you been offered a similar product to STORM?

Any product claiming to be the same as STORM®  Equus, Canis, Avis or Camelus or to have the same action will not be the same and will not offer you the same high quality, purity or efficacy. STORM®  products are uniquely formulated from a combination of ingredients including ProCarnosine®, which is only available through Racing Blue and other synergistic ingredients that have a proven track record.

Fast Fact #8

Is STORM® race & competition legal?

STORM® products were rigourously tested for prohibited substances during development and each and every batch is now tested for specified prohibited substances  prior to sale.  STORM® conforms to the rules of racing and competition (see individual products for more information).
Delivery
Subject to availability, we will use all reasonable endeavours to deliver the products you have ordered as soon as possible after your order is accepted by us. Our policy is to despatch goods the same day the order is received for goods that are in stock. Please note that the order must be received before 12.00am (GMT) to allow same day despatch. International delivery times may vary considerably and are often the result of delays incurred owing to import controls at point of entry. Estimates of delivery times will be provided by us in email format upon despatch from Racing Blue.
We outsource delivery to a specialist delivery/courier company (currently FedEx) although we reserve the right to make use of another company at any time. Terms and conditions of carriage by FedEx can be found on their website, Delivery details.
Once delivered, the products ordered will become your property (provided they have been paid for in full) and your responsibility, and, except in relation to products that are damaged or faulty when delivered or have been incorrectly delivered, we will not accept and liability for their loss, damage or destruction after they have been delivered.
Share your thoughts!
Let us know what you think...
You should Login before posting your review