Trainer and Vet Ilka Gansera Leveque backs STORM®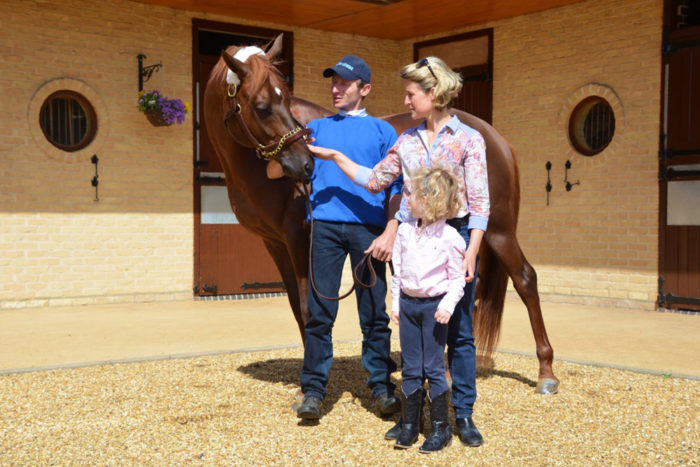 Trainer and Vet Ilka Gansera Leveque backs STORM® .
Based in Newmarket at St Wendred's Stables, Ilka and her husband Stephane are a unique and formidable team, combining strong practical skills with veterinary science. Ilka is a practicing vet and has experienced racing as an assistant in the US and as an apprentice jockey in Germany. From a background in show jumping, Stephane was an apprentice jockey in France before moving to Dubai and latterly back to the UK whilst working with top racing yards. They are relative newcomers to the UK racing scene, training both Thoroughbreds and Arabians, but there is no doubt that with their tenacity and skill set, they are a team we will be hearing a lot more of.
Racing Blue are working closely with Ilka and Stephane as their racing operation grows and are thrilled for them for their recent success with the aptly named Storm Tropour. Owned by Kathy and Paul Smoke from MoKee Arabians in the USA, this storming little horse has just won the Al Qurn Beach Maiden Stakes at Windsor from only his second start in the UK on turf.
As a vet and trainer Ilka is in a unique position to evaluate STORM® read more to hear her feedback.
"For a racing Arabian stallion like Storm Troupour, correct muscle health and balance is everything.
As a stallion his muscle definition is enhanced, but that raw energy must not only be nurtured but also controlled at home on the gallops and at the races.
Storm Troupour has to take the tension and excitement of race day and the parade ring in his stride. He must be calm amidst the adrenalin of the starting stalls and yet ready to explode out of them.
And, at the end of a mile race he must still have the strength and stamina in those muscles to get his nose in front.
As a vet, I am fascinated by how we can naturally combine nutrition, biochemistry and exercise physiology. In Racing Blue STORM® , I have found that perfect balance between improving Storm Troupour's athletic performance in speed, strength and stamina.
I am delighted to be associated with Racing Blue and our Arabian stallion, a natural athlete with his gleaming chestnut coat, toned muscles and exciting performance, is one of the best possible illustrations of how STORM® delivers results.
I totally trust the equine science that has gone into producing this palatable product and am confident in their rigorous quality control and I consider that, with Racing Blue, I have found a winner". – Ilka Gansera Leveque trainer STORM Troupour, www.gansera-leveque.com