News from STORM® Advocate Jesse Campbell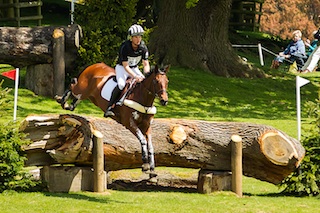 STORM® Advocate Jesse Campbell brings us upto date with his news in the off season.
We've been very busy since the eventing season finished in October, including a trip to the Sweden International Horse Show indoor cross-country which was held in Stockholm, Sweden and the Stuttgart German Masters Indoor Derby.
At both competitions I rode Jane Bell's Apart VD Hoefslag Z who finished in the money at Stuttgart and was having such a great time in Stockholm that he tried to clear the bank in one, so we took a tumble. It was such a shame as I'm pretty certain we'd have won the class as up until that point we were flying. The prize of a John Deere tractor would have come in really handy!
Despite our blip, the combined team of Australia and New Zealand finished second and it was really great being on the podium to pick up the prizes.
These indoor competitions are fantastic and the atmosphere is electric. They've been described as having a "rock concert atmosphere" which I would agree with and while everyone is cheering and clapping you have to stay really focused on the fences as they come up pretty fast.
I've also been to Paris to the Longines Paris Masters Grand Prix where it was really great to see my sponsor Antares who had a trade stand there. The new bridle work collection is just stunning.
I caught up with my showjumping coach Grant Wilson and my good friend Bruno Goyens de Heusch the owner of Westgate EFI. He was competing at the show and with ringside seats, we had a great time, watching top showjumpers in action. During the season, you don't often get the chance to see that level of competition so it was a great opportunity.
The horses are all back in work now and we'll build their fitness during December. I have some dressage sessions booked in with Isobel Wessells with both the younger horses and the more experiences ones which I am looking forward to. In January I'll take five horses to Madrid to train with the New Zealand team coach Luis Alvarez Cervera.
In February I plan to go to Belgium for a few days to train with Grant Wilson and compete in some shows. It will give me the opportunity to push the barriers and test ourselves a bit and will give our winter training programme focus.
I'd planned to return home to New Zealand to do some teaching, but with the aim Rio 2016 I've decided to focus on the horses and training here. We're not on the "hot" list, but we do have a slim chance of going, so that's very much the focus in the months ahead.