STORM® CANIS™ makes Dreams Come True!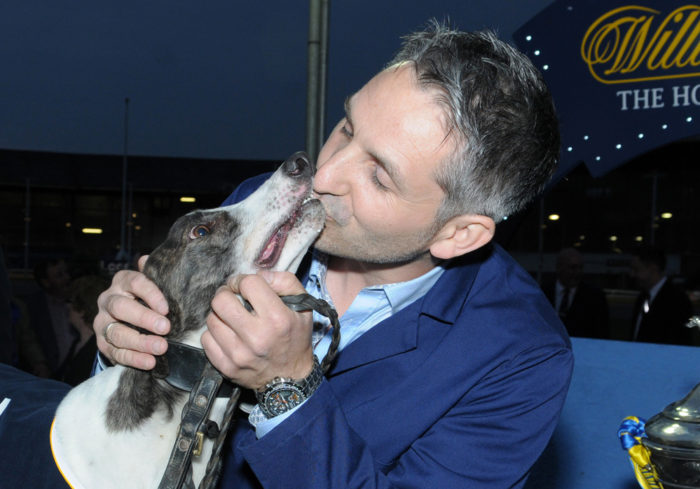 Major upset in 2014 Derby sees underdog STORM® to victory
Wimbledon, May 31st 2014
At 500/1 ante post price, nobody really thought that Bruno Berwick's young Salad Dodger had a chance in the 2014 William Hill Derby. Indeed, having been running at B4 grade only three months before the final and being only a 23 month old puppy, coupled with the loss of his home track at Coventry, Salad Dodger looked a most unlikely contender to win the jewel in British greyhound racing's crown.
Salad Dodger's trainer Bruno Berwick however was being given good advice on diet and supplementation by Patrick Janssens of Pre Market Pets. Bruno trains only a handful of dogs, but the ex-boxer believes that to get the best results it is necessary to use only the best products. Patrick introduced Bruno to STORM® CANIS™ and Salad Dodger started his meteoric rise.
'STORM® CANIS™ is a really amazing product. Since I put my dogs on it, they have really shone; they have all massively improved on it with the result we have now. Brilliant! I still can't quite believe this has happened!', said a clearly delighted Bruno after the race. Bruno is particularly pleased because he describes Salad Dodger's improvement in form as 'a victory for the little guys' against the big trainers, and genuinely believes this has levelled the playing field.
Salad Dodger's first open race was only in March when he came third to Ninja Assassin in Nottingham, since which his times have been steadily improving; he was nearly a second up on his race times to win the Derby.
At the Derby meet in Wimbledon, other STORM® CANIS™ dogs shone too, with the majority of wins and prize money going to Racing Blue's clients, but nothing can detract from Salad Dodger's amazing story, where an underdog came from nowhere to win the biggest race in Britain.