Nahrungsergänzung zum Muskelaufbau für Hunde
Für nachhaltige Schnelligkeit und Kraft
Fördert die Milchsäurepufferung und unterstützt Training und Leistung
Ein großartiger Durchbruch bei der Ernährung für den Hundesport
Wissenschaftlich erwiesen für die Humanforschung und die Hundeforschung. Gestützt durch weltweite Patente
STORM® Canis – Wissenschaft
Eine optimale Muskelfunktion ist für athletische Kraft, Schnelligkeit und Ausdauer bei Gebrauchshunden unabdingbar. Bei körperlicher Anstrengung müssen die Muskeln mit Energie versorgt werden, um folgende Anforderungen zu erfüllen:
Nachhaltige Schnelligkeit für Windhundrennen, Hütehundprüfungen, Bikejöring und Schlittenhundrennen
Ausdauer und Kraft für Spurts bei Agility, Flyball und für Jagdhunde.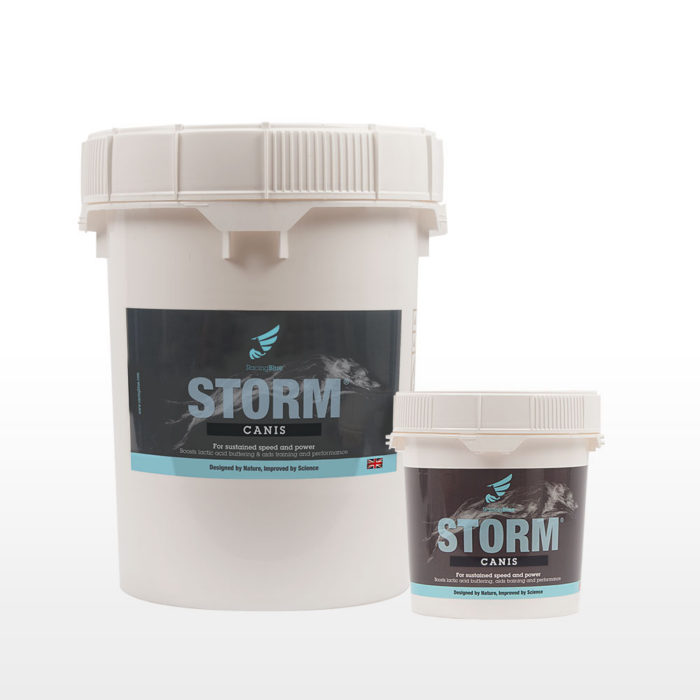 Die Bekämpfung von Muskelermüdung ist auch wichtig, wenn Sie die Leistung Ihrer Hunde verbessern möchten. Wenn Ihr Hund müde oder erschöpft ist, kann die Muskelkraft nachlassen. Die Leistung wird plötzlich beeinträchtigt und Ihr Hund kann langsam werden. Muskelermüdung ist die Folge von Übersäuerung durch den Aufbau von Milchsäure während der sportlichen Betätigung.
Es ist wichtig, dass sich die Muskeln nach der physischen Anstrengung erholen können, damit das Tier wieder "auf die Beine kommt". Das hängt wiederum da-von ab, wie gut das muskuläre Regenera-tionsvermögen Ihres Hunds ist und er neues Muskelprotein bilden kann.
STORM® Canis bietet eine einzigartige Mischung von Zutaten zur Unterstützung eines effektiven Trainings, optimaler Leistung und Erholung.
STORM® Canis bewältigt diese drei Hauptprobleme:
Muskelbrennstoff
Muskelermüdung
Muskelregeneration
STORM® Canis verstärkt bestimmte Brennstoffspeicher der Muskeln und verzögert die Muskelermüdung durch Verbesserung der Widerstandskraft gegen eine Übersäuerung der Muskeln. Nach der Bewegung unterstützt STORM® Canis die Muskelregeneration durch Stimulierung der Muskelproteinsynthese.
STORM® Canis – Eignung
Dieses wissenschaftlich erprobte revolutionäre Produkt baut Ihren Hund in jeder Disziplin auf, sowohl im Training als auch im Wettbewerb. STORM® Canis ist für alle Renn- und Gebrauchshunde geeignet, die sprinten oder Kraft haben müssen und wo Milchsäure zur Muskelermüdung beiträgt.
STORM® Canis eignet sich für alle Gebrauchshunde wie Windhunde, Schlitten-hunde, Jagdhunde und Hütehunde, für Canicross, Agility und Flyball
STORM® Canis – aktive Wirkstoffe
STORM® Canis enthält vier aktive Wirkstoffe ohne Bindemittel oder Füllstoffe. Das Mittel ist aus speziellen Alpha- und Beta-Amino-säuren und anderen Aminosäurederivaten und einem funktionalen Kohlenhydrat zur Unterstützung der Aufnahme im Verdauungstrakt zusammengesetzt.
Für die Beschaffung der Zutaten und den Fertigungsprozess kommt ein stringentes Qualitätskontrollverfahren zum Einsatz. Jede Charge wird auf verbotene natürliche Substanzen geprüft, bevor sie zum Verkauf freigegeben wird.
STORM® Canis – klinisch erprobt
Weltweit renommierte Ernährungsspezialisten haben dieses Produkt sorgfältig zusammengesetzt, der Nutzen ist durch publi-zierte Forschungsergebnisse bei Hunden, Pferden und auch menschlichen Sportlern wissenschaftlich erwiesen. Die ursprüng-lichen Studien, die STORM® Canis zugrunde liegen, wurden beim The Animal Health Trust in Newmarket, Großbritannien vom Racing Blue Ernährungsteam durchgeführt.
STORM® Canis hat eine nachweisliche Erfolgsbilanz bei Windhundrennen und wurde vom Erfolgstrainer Mark Wallis ausgiebig getestet. Er sieht STORM® Canis als herausragendes Produkt an. Top-Agility-und Flyball-Hundeführer sowie Hütehund- und Schlittenhund-champions nutzen jetzt STORM® Canis.
STORM® Canis – Einzigartig
STORM® Canis verwendet eine einzigartige Mischung aktiver Wirkstoffe wie ProCarnosine®, für das es eine Reihe weltweiter Patente gibt, die die Verwen-dung bei Renn- und Gebrauchshunden regeln. STORM® Canis ist das einzige Produkt, das nachweislich eine solch um-fassende Unterstützung für Renn- oder Gebrauchshunde bietet.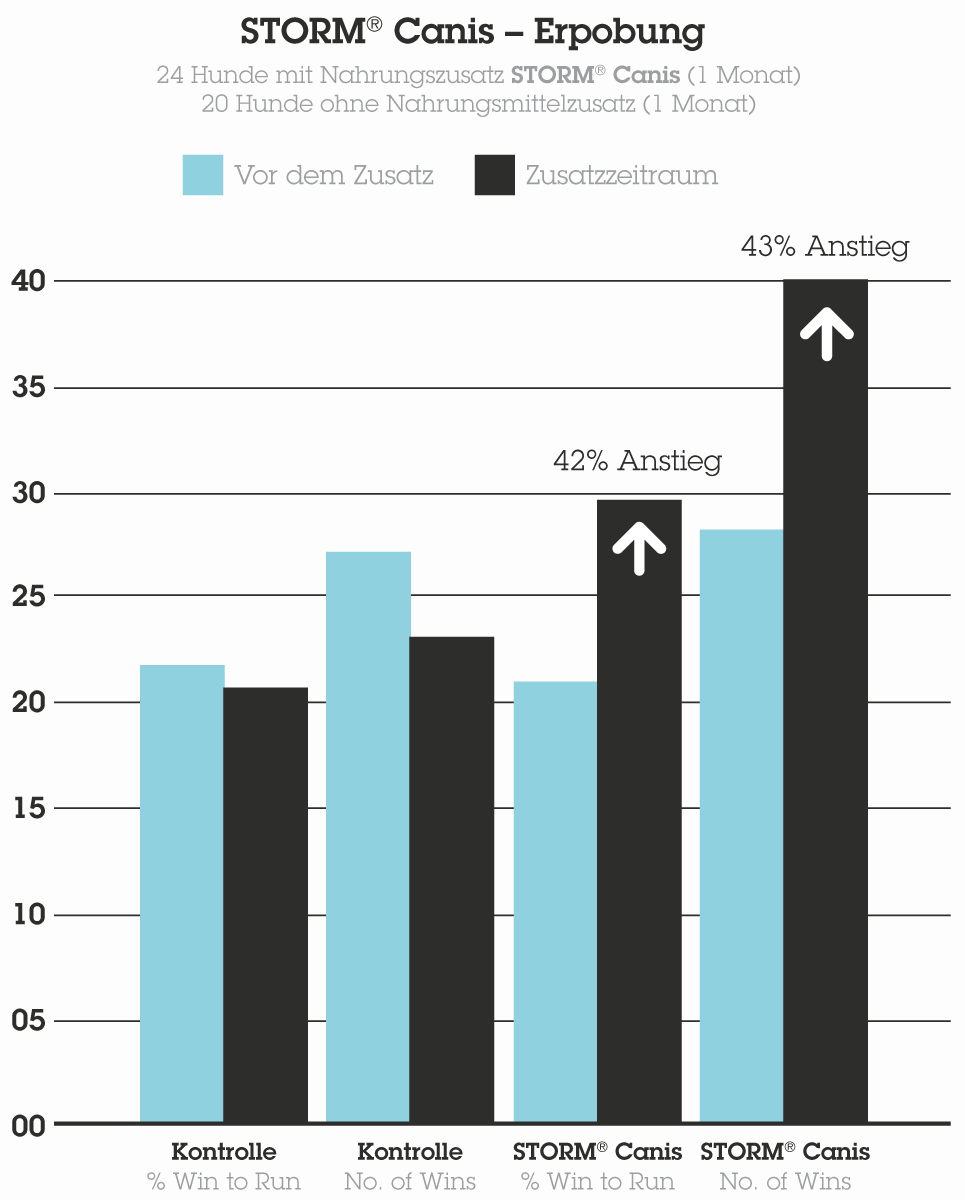 *Dunnett and Harris 1999
STORM® Canis fördert längere Schnelligkeit, Kraft und Agilität und unterstützt die Regeneration nach dem Training und nach Wettbewerben.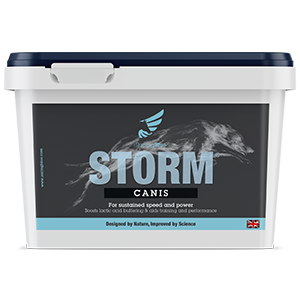 International shipping available
buy
STORM® canis
now