STORM® Athlete
Benefiting serious riders, dog handlers, a range of athletes and active individuals
STORM® Athlete boosts the bodies' natural ability to slow the process of muscle fatigue with sustained release beta alanine. By increasing the level of important peptide buffers in muscle, including carnosine. STORM® Athlete helps to control the rise in muscle acidity that occurs as a natural consequence of intense exercise, limiting performance.
Build a Better Muscle Faster
Until now, beta-alanine users may have experienced a prickling sensation recognised as a parasthesia and SR CarnoSyn® was uniquely formulated to deliver a higher level of beta-alanine more comfortably in a single daily dose. STORM® Athlete is supported by multiple clinical and scientific studies showing that average supplementation of beta-alanine (6.4g/day over 4weeks), provided significant performance attributes.
Benefits STORM® Athlete
Increases muscle carnosine using a sustained modality
Delivers extended absorption for optimal results.
simplified daily dosing.
Backed by robust scientific studies and protected by a suite of global patents.
Suitable for a wide variety of sports where muscle acidosis limits performance.
Serving size 2 tablets per day – 1 tub contains 120 tablets.
STORM® Athlete features a superior form of beta-alanine with a unique and patented sustained release profile, which facilitates improved absorption and retention in muscle for carnosine synthesis. An increase in muscle carnosine will support a greater work capacity helping to optimise training and competition.
STORM® Athlete uses a proprietary microencapsulation technology, to comfortably deliver up to 6.4g of encapsulated sustained release beta alanine per day whilst limiting paresthesia.
Ingredients:  Beta-alanine, Hydroxypropyl methylcellulose, stearic acid, magnesium stearate, silicon dioxide.
Consume STORM® Athlete 4 times per day for the first 4 weeks. Thereafter 1 tablet twice daily throughout the competition season.
Do not exceed recommended serving size.
Maintenance serving size 2 tablets per day – 1 tub contains 120 tablets.
If you require any further help or info about the STORM® Athlete supplement, please feel free to contact us.
NOTE – If you are taking any medication or have an ongoing medical condition, always check with your doctor to ensure safe use.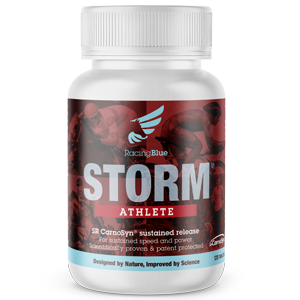 buy STORM® athlete now